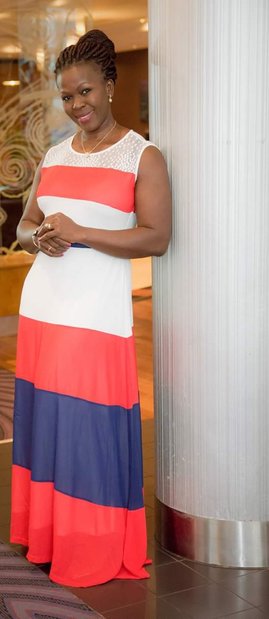 Lady Anita Chioma Duckworth-Bradshaw (Lady Anita Bradshaw), is the founder of powerhouse Global. An organisation set up to educate, inspire, empower and transform the lives of men and women across the GLOBE. She is an accredited personal performance coach from the COACHING ACADEMY UK. A trainer, mentor and a sort after GLOBAL SPEAKER.
A published author of over 6 personal development books (All on Amazon & website). She is an authority in capacity building and leadership development. A multi Award-Winning Impact Leader and Powerhouse Global Speaker.
As an appreciation of her work as an Agent of Change, in 2013 she was gifted a title (The most honoured, Lady Anita Chioma Duckworth-Bradshaw, Lady of Glencoe, Scotland).
Lady Anita is also the President of "POWERFUL GLOBAL WOMEN FOUNDATION". PGWF is a charity based in Nigeria, West Africa. In 2016, she fed over 400 children as part of her annual "PROJECT FEED 1000 CHILDREN GLOBALLY". She has continued to touch lives especially that of women and children in Africa and across the GLOBE.
Lady Anita is a great voice for the GLOBAL WOMEN (those hurting and those living in fulfilment). Her passion to enhance and transform lives stem from her own personal journey as a child, who started her leadership journey at the tender age of 7. At that age she left her village to live with a relative in the city. She was assigned the job of looking after her niece who was only 2 months old at that time, as well as help out with house chores. Lady Anita served her relative for 11 years, making it a journey which transited her from a child to an adult without really enjoying childhood.
Going through the struggles of childhood had added a wealth of experience and knowledge to Lady Anita, and she has now become "A GLOBAL VOICE" for WOMEN and CHILDREN.
It's with a great pleasure that I invite you to join me and other powerhouse women as we set to educate, empower and network. Women are powerful forces and the current global pandmeic has enabled this truth to be seen around the world.
The internet has also played a very vital role in enabling women to connect and work together on a global basis. We have teamed up with buisness leaders from around the world to organise this event. We will also be celebrating 50 women from around the world - thanks to Powerhouse Global Magazine and other sponsors.
Meet Our Speakers:
H.E. Laila Rahhall - CEO: Business Gate
Ilona Parunakova - CEO: IP Resilience Global Magazine
Angela Karanja - CEO: Raising Remarkable Teenagers
Tanieka Vance-Randall - CEO: Tee's Hair Secrets
Brenda Dempsey -CEO: Book Brilliance Publishing
Adese Okojie - CEO: Black Woman In HR
Caroline Emile - CEO: Butterfly Me
Mira Warszawski - Life Coach, Author and Nurse
Juliana Cici - Human Right Advocate